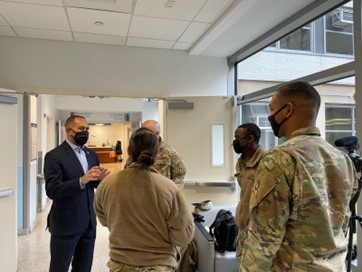 Veterans deserve our deepest appreciation and respect for the sacrifices they make to protect us both at home and abroad. We are forever indebted to them and must ensure they have access to the care and benefits they deserve when they return home.
With over 18,000 veterans of diverse backgrounds in New York's Eighth Congressional District, I have produced and joined legislation to improve ongoing issues impacting veterans and their families. I remain committed to achieving policies that honor and reward our patriotic heroes. Democrats are dedicated to expanding efforts that increase accessibility to affordable, quality and timely health care and mental health care for veterans and their families. President Biden and the Democratic Caucus took decisive action to enact S.3373, the Sergeant First Class Heath Robinson Honoring our Promise to Address Comprehensive Toxics Act of 2022, also known as the PACT Act, to expand access to health care and benefits for up to 3.5 million veterans exposed to harmful toxins while serving in the line of duty. This legislation also provided the Department of Veterans Affairs (VA) with important tools to be able to retain medical providers and improve facilities.
In 2021, President Biden signed into law a bill I introduced, H.R.2093, the Veterans and Family Information Act, which requires the VA to make all of its fact sheets available in English, Spanish, Tagalog and each of the 10 most commonly spoken languages not listed. It is our duty to fully support our veterans regardless of the language they speak. Providing veterans and their caregivers information without the burden or delay of translation will empower them to best access the benefits earned through their service to our nation. The VA provides incredibly valuable and critical information to veterans and their caregivers relating to life after service, including physical and mental health benefits, vocational rehabilitation, education, employment and home loans among others. Prior to its enactment, there was no consistency in the availability of that information in languages other than English, but this bill changes that and is a great step toward making the services and information from the VA accessible to all.
However, there is more work to be done. Too many veterans continue to suffer from mental health disorders, service-connected disabilities, a lack of affordable housing options and too few job opportunities. I, along with House Democrats, are committed to continuing to fight so that we have a VA that is accessible and that adequately responds to all veterans' needs.
For more information concerning my work on veterans' issues, please contact me. Please also see the resources that my office offers for veterans and military personnel.
More on Veterans
President Biden Signs Rep. Jeffries Bipartisan Bill to Improve Language Accessibility for Veterans
Leader Jeffries Statement on President Biden's State of the Union Address