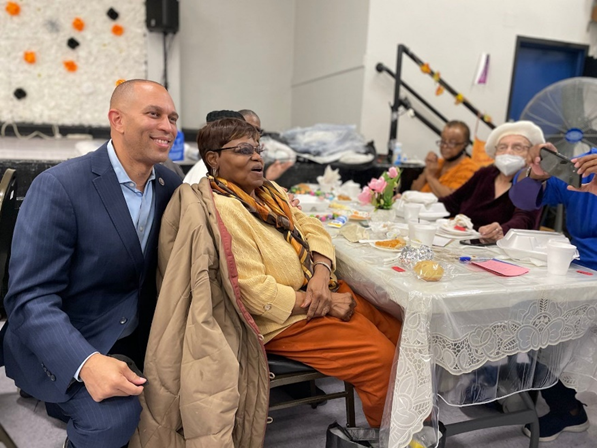 It is my honor to represent over 184,000 seniors in New York's Eighth Congressional District. Our seniors have dedicated their lives to communities and younger generations and have earned the right to a safe and secure retirement. A society that is age-inclusive and intentionally supportive is one that does not pit generations against one another. I am dedicated to carrying forward our nation's moral and economic responsibility to safeguard our seniors' health and wellbeing. We must protect Social Security and fight back against extreme MAGA Republican attempts to cut the benefits that millions of Americans have rightfully earned. We must lower healthcare costs and drive down the price of prescription drugs, so that no senior will ever again be forced to choose between putting food on the table or paying for life-saving medications. We must stand up for our senior citizens.
In 2022, I awarded $670,902 in community project funding to Brooklyn-based APNA Brooklyn Community Center, Inc.'s Meal Distribution and Senior Transportation Initiative to help provide food to individuals in the South Brooklyn community who are experiencing food insecurity and are in need of assistance. Passenger vans expand ABNA's ability to deliver food to the homes of seniors and other individuals who are unable to wait in line. The vans also transport seniors and individuals with disabilities, enhance quality of life and improve access to health and support services.
I will continue to fight the complex challenge of protecting our Social Security program for 114,556 constituents and 65 million Americans. I will continue to be a consistent champion of Medicare and other crucial senior services. As I have always done, I will put people over profits: seniors over profits.
For more information concerning my work on behalf of seniors, please contact me. Please also see the resources that my office offers for seniors.
More on Seniors
Rep. Jeffries Statement on House Democrats Defending Social Security, Medicare and Democracy
Rep. Jeffries Statement on Celebrating 87 Years of Social Security
Rep. Jeffries Statement on the Inflation Reduction Act Improving the Lives of Everyday Americans and Put People Over Politics
Rep. Jeffries Statement on Securement of $9.2 Million for the Brooklyn Hospital Center with Sen. Schumer and Sen. Gillibrand