REP. JEFFRIES: THE INFLATION REDUCTION ACT WILL DRAMATICALLY IMPROVE THE LIVES OF EVERYDAY AMERICANS AND PUT PEOPLE OVER POLITICS
WASHINGTON, DC – Today, Rep. Hakeem Jeffries (NY-08), Chairman of the House Democratic Caucus and a member of the Budget Committee, spoke on the Floor of the House before voting to send the Inflation Reduction Act to President Biden's Desk. The legislation will lower costs, create millions of good-paying jobs, deliver the most significant action on climate in history and dramatically reduce the deficit.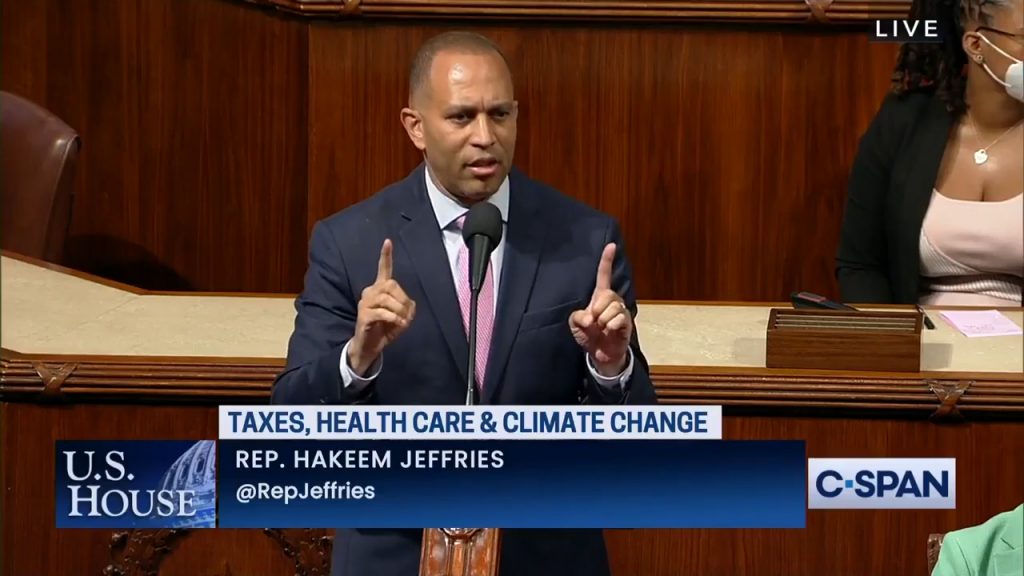 Remarks as Delivered:
"Madam Speaker, we are once again getting big things done for everyday Americans.
We passed the American Rescue Plan, saved the economy, put shots in arms, money in pockets and kids back in school.
Passed the Infrastructure Investment and Jobs Act to fix our crumbling infrastructure and create millions of good paying jobs.
We passed gun safety legislation for the first time in 30 years that will save lives.
We passed the CHIPS and Science Act that will bring back domestic manufacturing jobs to the United States of America.
I rise today in strong support of the Inflation Reduction Act, another transformative bill brought to you by your friendly neighborhood Democratic Party.
The Inflation Reduction Act will lower energy costs, confront the climate crisis with the fierce urgency of now and set our planet forward on a sustainable trajectory.
Lower healthcare costs by strengthening the Affordable Care Act, as well as reducing the deficit by $300 billion.
And giving Medicare the ability to use its bulk price purchasing power to drive down the high cost of lifesaving prescription drugs.
It's a big effing deal.
The Inflation Reduction Act is going to dramatically improve the lives of everyday Americans.
We are putting people over politics, fighting to lower costs, for safer communities and better paying jobs.
But my colleagues on the other side of the aisle, Republicans, will oppose this groundbreaking legislation.
They'd rather defend Donald Trump than defend the American people.
Vote yes on the Inflation Reduction Act so we can continue to put people over politics."
Background:
The Inflation Reduction Act will:
Allow the government to negotiate a maximum price of high-cost prescription drugs for Medicare beginning in 2026, and cap the amount that seniors pay out of pocket to $2,000 per year.
Extend Affordable Care Act premium tax credits until 2025, locking in rates that will save 13 million Americans an average of $800 per year.
Reduce the federal deficit by approximately $300 billion to fight inflation.
Cut carbon pollution by 40% over the next decade by providing nearly $370 billion in tax credits to help stimulate adoption of clean energy technologies, such as clean fuel production and use, electric vehicle purchases, energy efficiency improvements on commercial and residential properties, as well as spending for communities that suffer disproportionately from pollution.
Include a 15% corporate minimum tax for corporations with more than $1 billion in average annual income over a three-year period.