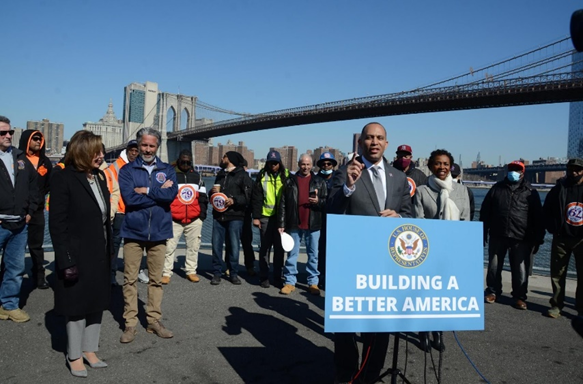 Transportation and infrastructure are crucial public goods that connect communities, serve citizens and produce economic growth. The COVID-19 pandemic further highlighted the importance of quality infrastructure and transit, as essential workers relied upon them to keep us safe and healthy. Disinvestments in such institutions risk the collapse of a necessary system imperative to our economic growth and development. Our country's transportation and infrastructure systems were in dire need of investment and in the 117th Congress, we delivered the single largest federal investment in infrastructure in the history of the Republic.
The Infrastructure Investment and Jobs Act (IIJA) delivers real and transformational change to New York. The IIJA will fix our crumbling bridges, roads, tunnels, airports and mass transit systems. It will tackle the climate crisis with the fierce urgency of now through green, sustainable and resilient investments. And, it will provide millions of good-paying jobs for hardworking people throughout our country. This infrastructure investment presents the opportunity to invest in all communities, especially historically underinvested neighborhoods, to bring our infrastructure into the 21st century.
The bill delivers billions of dollars to New York City and State. Amongst other policies, the bill provides funding to:
Repair and rebuild roads and bridges focusing on climate change mitigation, resilience, equity and safety for all users, including cyclists and pedestrians. New York can expect to receive $11.6 billion for federal-aid highway apportioned programs and $1.9 billion for bridge replacement and repairs over five years.
Improve healthy, sustainable public transportation options for all New Yorkers through providing $9.8 billion over five years for public transit.
Connect every New Yorker to reliable high-speed internet. Under the bill, New York will receive a minimum allocation of $100 million to help get broadband coverage across the state, including providing access to at least 186,754 New Yorkers who currently lack it. Also, under the bill, 5,375,000 New Yorkers will be eligible for the Affordability Connectivity Benefit, which will help low-income families afford internet access.
Prepare infrastructure across New York for the impacts of climate change, cyber-attacks and extreme weather events. Based on historical formula funding levels, New York can expect to receive $34 million over five years to protect against wildfires and $28 million to protect against cyberattacks. New Yorkers will also benefit from the bill's historic $3.5 billion national investment in weatherization, which will reduce energy costs for families.
Further develop New York airports by providing approximately $685 million for infrastructure development over five years.
As Democratic Leader, I was proud to establish the Regional Leadership Council that will guide our partnership with the Biden administration as we implement historic legislation signed into law during the previous Congress like the Infrastructure Investment and Jobs Act.
It is crucial that we bring this investment to life in every corner of America.
In 2021, I awarded $1,942,500 in community project funding to the Affordable Small Home Sustainability Initiative proposed by the Pratt Center for Community Development, Cypress Hills Local Development Corporation and IMPAACT. The funding is used to preserve affordable housing for 600 residents through the delivery of a "whole homes" combination package of energy retrofits, health and safety measures and home repairs to 75 2-family homes in low-income areas in the Bedford-Stuyvesant, Cypress Hills, and Crown Heights sections of Brooklyn.
For more information concerning my work on infrastructure and transportation for Brooklynites, please contact me.
More on Infrastructure and Transit
Rep. Jeffries' Statement on Introduction of Transit Parity Resolution with Garcia and Pressley
Rep. Jeffries' Statement on The Infrastructure Investment and Jobs Acts as Law of the Land
Rep. Jeffries' Statement on $500,000 Funding of First Phase of Ecosystem Restoration and Hurricane and Storm Damage Risk Reduction Project in Howard Beach