THE INFRASTRUCTURE INVESTMENT AND JOBS ACT IS THE LAW OF THE LAND
WASHINGTON DC – Today, U.S. Representative Hakeem Jeffries (NY-08) joined President Joe Biden and Vice President Kamala Harris at the bill signing of the Infrastructure Investment and Jobs Act.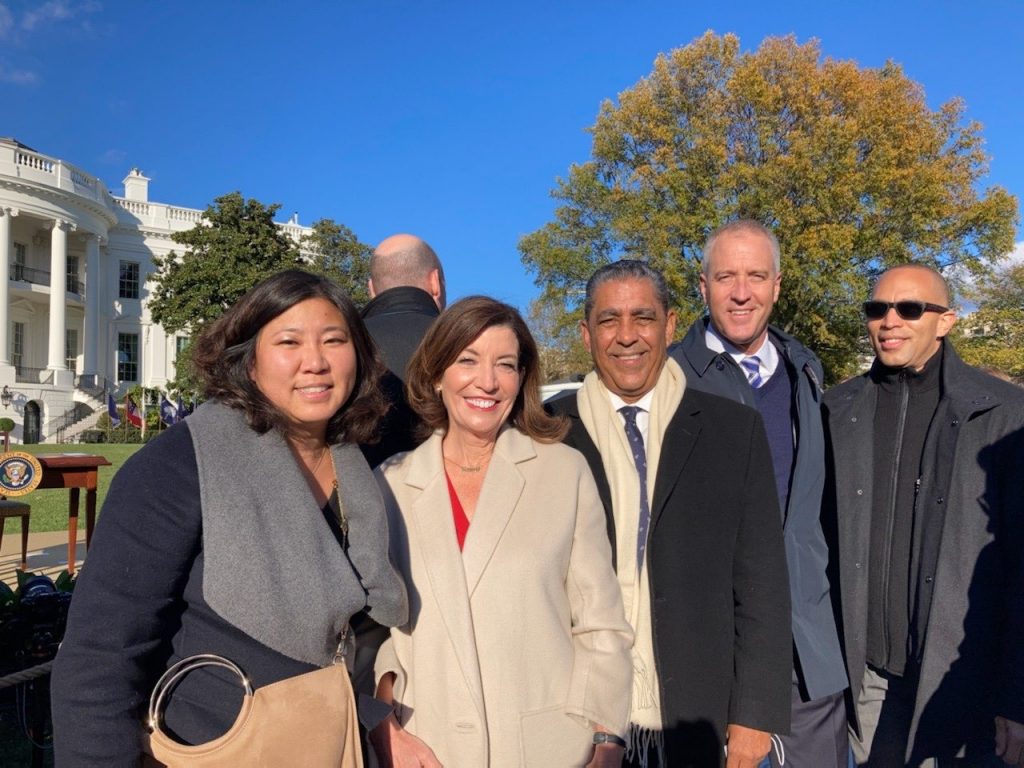 From left to right: Rep. Grace Meng, Gov. Kathy Hochul, Rep. 
Adriano Espaillat, Rep. Sean Patrick Maloney and Rep. Hakeem Jeffries at the White House for the signing of the Infrastructure Investment and Jobs Act.
"The Infrastructure Investment and Jobs Act delivers real and transformational change to New York," said Rep. Jeffries. "This bill will provide the largest single federal investment in infrastructure in the history of the Republic. It will fix our crumbling bridges, roads, tunnels, airports and mass transit systems. It will tackle the climate crisis with the fierce urgency of now through green, sustainable and resilient investments. And, it will provide millions of good-paying jobs for hardworking people throughout our country. It will help ensure that all New Yorkers have access to affordable high-speed internet. I thank President Biden for his commitment to ensuring that we Build Back Better. In that regard, this law represents a huge leap forward on behalf of New Yorkers and everyday Americans."

The bill delivers billions of dollars to New York City and State. Amongst other policies, the bill provides funding to:
Repair and rebuild roads and bridges focusing on climate change mitigation, resilience, equity and safety for all users, including cyclists and pedestrians. New York can expect to receive $11.6 billion for federal-aid highway apportioned programs and $1.9 billion for bridge replacement and repairs over five years.
Improve healthy, sustainable public transportation options for all New Yorkers through providing $9.8 billion over five years for public transit.
Connect every New Yorker to reliable high-speed internet. Under the bill, New York will receive a minimum allocation of $100 million to help get broadband coverage across the state, including providing access to at least 186,754 New Yorkers who currently lack it. Also, under the bill, 5,375,000 New Yorkers will be eligible for the Affordability Connectivity Benefit, which will help low-income families afford internet access.
Prepare infrastructure across New York for the impacts of climate change, cyber-attacks and extreme weather events. Based on historical formula funding levels, New York can expect to receive $34 million over five years to protect against wildfires and $28 million against cyberattacks. New Yorkers will also benefit from the bill's historic $3.5 billion national investment in weatherization, which will reduce energy costs for families.
Further develop New York airports by providing approximately $685 million for infrastructure development over five years.