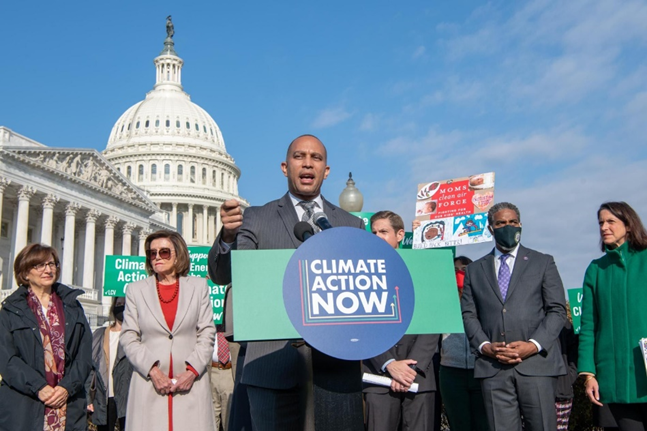 I am honored to work on behalf of my district to create a clean energy future. Communities across the world are on the front lines of the climate crisis, and Brooklyn is no exception. New Yorkers are paying 40% more for energy than other Americans and that is not fair. The cost of the climate crisis is undeniable for families and must be addressed with the fierce urgency of now.
First, I worked with Democrats to pass the historic Inflation Reduction Act. This landmark law lowers home and small business energy costs, creates good-paying union jobs and education opportunities and boosts domestic energy production. The Inflation Reduction Act is a crucial first step in accomplishing our environmental justice goals and uplifting historically overburdened communities that have suffered terrible health effects at the hands of Big Oil and Gas executives and their shareholders.
Second, I introduced the Keep America's Refuges Operational Act, which was signed into law in 2018 and helps protect our wildlife by reauthorizing the National Wildlife Refuge System volunteer, community partnership and education programs that help ensure Americans can visit, explore, fish, hunt and study wildlife for generations to come. We must remain vigilant in protecting the breathtaking wildlife and beautiful environment God has given America. The Keep America's Refuges Operational Act is a commonsense measure that represents a strong step in that direction. Each year, 47 million Americans visit wildlife refuges, generating almost $2 billion in local economic activity. This bill will keep our refuges operational by undergirding the volunteers that dedicate thousands of hours to make sure we can all experience the vast natural beauty our great nation has to offer.
Third, I awarded $800,000 in 2021 community project funding to the New York State Department of Homeland Security and Emergency Services' Fresh Creek Tide Gates project in tidal flooding-prone Canarsie, where residents regularly experience basement flooding from water backing into their drainage systems. The funding is used to design and construct a tide gate that reduces inflow into the sewer network, helping to protect both residential and commercial properties from flooding.
When it comes to addressing climate change, we can no longer afford to continue a pattern of procrastination. We must act to reduce our environmental footprint and aid the planet we all share. I am committed to ensuring that we set our planet forward on a sustainable trajectory and build upon the historic progress we have made.
For more information concerning my work on energy and the environment, please contact me.
More on Energy and Environment
Rep. Jeffries Statement on the Inflation Reduction Act Improving the Lives of Everyday Americans and Put People Over Politics
Rep. Jeffries Statement on the Passage of the Inflation Reduction Act
Rep. Jeffries' Statement on $500,000 Funding of First Phase of Ecosystem Restoration and Hurricane and Storm Damage Risk Reduction Project in Howard Beach
Rep. Jeffries Statement on Canarsie Courier Community Reconstruction Project