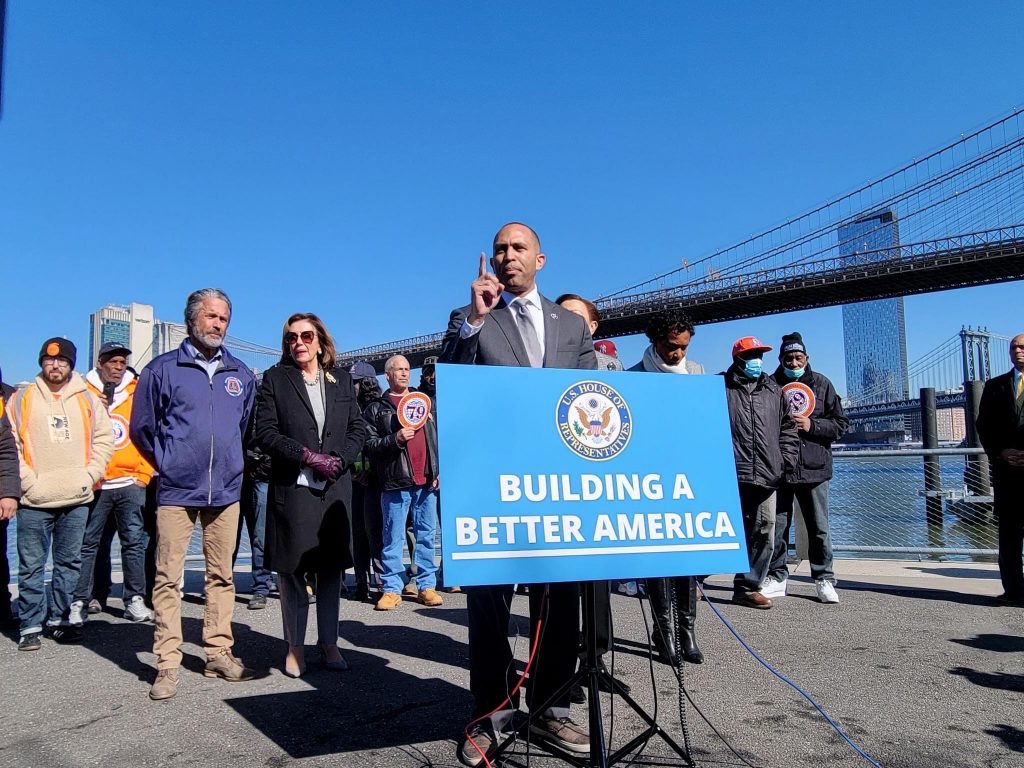 "This bill will provide the largest single federal investment in infrastructure in the history of the Republic" -Rep. Jeffries
This law will rebuild the roads, bridges and rails of America. It will expand access to clean drinking water and high-speed internet. Additionally, the Infrastructure Investment and Jobs Act will advance environmental justice and tackle the climate crisis. It will also ease inflationary pressures, strengthen supply chains and create good-paying union jobs. Overall, the Infrastructure Investment and Jobs Act will grow the economy sustainably and equitably for all Americans in every single zip code. 
Highlights of the Infrastructure Investment and Jobs Act:
$110 billion to repair roads and bridges and support major, transformational projects in addition to reauthorizing surface transportation programs for five years.
$66 billion for rail funding to eliminate the Amtrak maintenance backlog, modernize the Northeast Corridor and bring world-class rail service to areas outside the northeast and mid-Atlantic.
$65 billion to ensure that every American can obtain reliable high-speed internet.
$55 billion to expand access to clean drinking water for households, businesses, schools and childcare centers.
$25 billion for airports and $17 billion for port infrastructure and waterways to address maintenance backlogs, reduce congestion and emissions as well as drive electrification and other low-carbon technologies.
An average of 1.5 million jobs added per year for the next 10 years.
How the Infrastructure Investment and Jobs Act Will Impact You:
Repairs roads and bridges using New York's allocated $11.6 billion for federal-aid highway apportioned programs and $1.9 billion for bridge replacement and repairs over five years.
Improves healthy, sustainable public transportation options through providing $9.8 billion over five years for public transit in New York.
Develops New York airports by providing approximately $685 million for infrastructure development over five years.
Connects every New Yorker to reliable high-speed internet through a minimum allocation of $100 million to the state.
Protects infrastructure across New York from the impacts of climate change, cyber-attacks and extreme weather events. New York can expect to receive $34 million over five years to safeguard against wildfires and $28 million to safeguard against cyberattacks.
Invests $3.5 billion in national weatherization, which will reduce energy costs for families.
Resources for the Infrastructure Investment and Jobs Act:
Bipartisan Infrastructure Law Funding Opportunities
Open and Upcoming Infrastructure Funding Opportunities
Press Releases on the Infrastructure Investment and Jobs Act:
THE INFRASTRUCTURE INVESTMENT AND JOBS ACT IS THE LAW OF THE LAND
Read the Infrastructure Investment and Jobs Act here