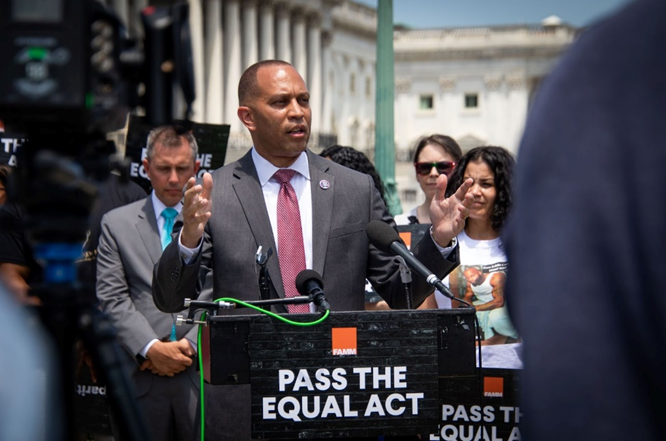 The American people deserve a criminal justice system that is fair, effective and compassionate. As a former member of the House Judiciary Committee and the Subcommittee on Crime, Terrorism, Homeland Security, and Investigations, I have had the opportunity to make criminal justice reform one of my primary focuses during my time in Congress.
The United States incarcerates more people per capita than any other nation in the world. When President Nixon began the failed war on drugs in 1971, there were less than 300,000 Americans behind bars in this country. Today, there are almost two million, disproportionately Black and Latino. The criminal justice system is in desperate need of reform. Sentencing disparities, racial profiling and police brutality devastate countless American families. Instead of providing counseling, educational and occupational opportunities, individuals are isolated and left behind. The United States relies on mass incarceration rather than rehabilitation. While attention has been called to such practices in recent years, criminal justice reform continues to be an urgent challenge.
We need to reform our criminal sentencing laws to ensure that individuals are not locked up for periods of time that are unnecessarily long and disproportionate to the crime they committed and the risk they pose to their community, if any. We also need to take a serious look at the conditions in our country's prisons and jails to ensure that we are treating incarcerated individuals humanely and in a manner that is conducive to their rehabilitation. In 2018, the FIRST STEP Act was signed into law and is a victory for all Americans who believe in justice and the power of redemption. This bill will transform lives by providing access to the mental health counseling, education, job training, and substance abuse treatment needed to help incarcerated individuals get back on their feet and become productive members of society. It also provides retroactive relief for the shameful crack cocaine sentencing disparity that unfairly destroyed lives, families and communities. The FIRST STEP Act has made considerable progress on a bipartisan journey to eradicate the mass incarceration epidemic in America.
I am dedicated to working with my colleagues in Congress to make transformational criminal justice a reality and breathe life into the principle of liberty and justice for all.
For more information concerning my work on criminal justice reform for Brooklynites, please contact me.
More on Criminal Justice
Rep. Jeffries Statement on Ending the Federal Cannabis Prohibition
Rep. Jeffries Statement on Jeffries, Scott, Armstrong and Bacon Applauding Committee Passage of EQUAL Act
Rep. Jeffries Statement on Collins-Jeffries Historic Criminal Justice Reform Bill Being Signed Into Law
Rep. Jeffries Statement on Jeffries and Taylor Introduction of the Bipartisan Kenneth P. Thompson Begin Again Act
Rep. Jeffries Statement on Jeffries and Gowdy Leading Bipartisan Effort to Give Ex-Youth Offenders a Fresh Start