LEADER JEFFRIES: "WE WILL STAND BEHIND UKRAINE UNTIL VICTORY IS WON"
Washington, D.C. – This week, House Democratic Leader Hakeem Jeffries (NY-08) met with Ukrainian President Volodymyr Zelenskyy.
The Eighth District of New York includes Little Odesa in Brighton Beach and areas of South Brooklyn with a strong population of immigrants from Ukraine. Leader Jeffries later discussed his meeting with President Zelenskyy at a press conference: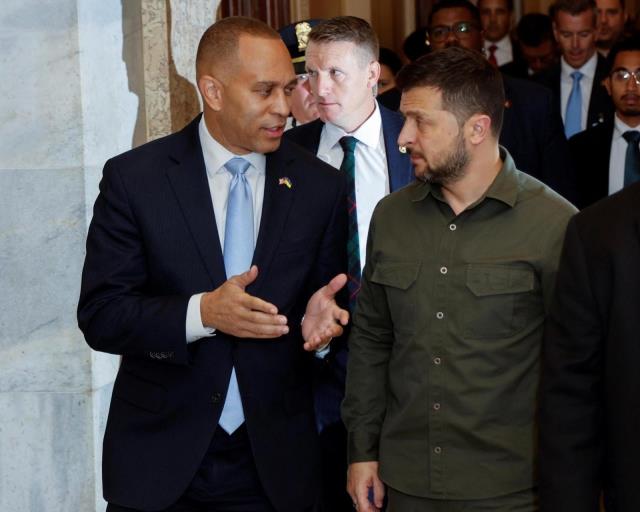 It was a very candid, open, forward-looking discussion where we were able to talk about the importance of continuing to stand behind the Ukrainian people in aggressively pushing back against this war of aggression that has been launched by Vladimir Putin and Russia. 

The conflict between Ukraine and Russia is important in terms of standing behind the Ukrainian people as it relates to the territorial dynamics that are at issue. But of course, the war of aggression launched by Russia involves other dynamics that are more important. Our values are at stake and our values are the values of the Ukrainian people. The values of the Ukrainian people are shared by the American people. 

We had an opportunity to express our appreciation for the resilience, the strength, the heart, the soul that the Ukrainian people have exhibited and of course, their courage and their bravery on the battlefield and amongst the civilian population. This is a struggle between Ukraine and Russia, but it's also a struggle on the global stage between democracy and autocracy, between freedom and tyranny, between truth and propaganda, between good and evil. And it's important for us to stand behind Ukraine until victory is won. 

And I'm confident that that is certainly what House Democrats will continue to do.
###