REP. JEFFRIES HOSTS ANNUAL SENIOR PICNIC AT CANARSIE PARK
Canarsie, Brooklyn – This week, Rep. Hakeem Jeffries, the House Democratic Leader, hosted his annual senior picnic, where seniors gathered for food, fun, music, games and entertainment. Resources and information about services from local agencies and nonprofits were made available for attendees.

Leader Jeffries highlighted President Biden's announcement of the selection of the first 10 medications for Medicare drug price negotiation. Last year, House Democrats, in partnership with President Biden, acted to protect and defend Social Security and Medicare from extreme MAGA Republican attacks, helped deliver the largest single-year benefit increase for Social Security recipients in over 40 years and worked to lower the high price of life-saving prescription drugs.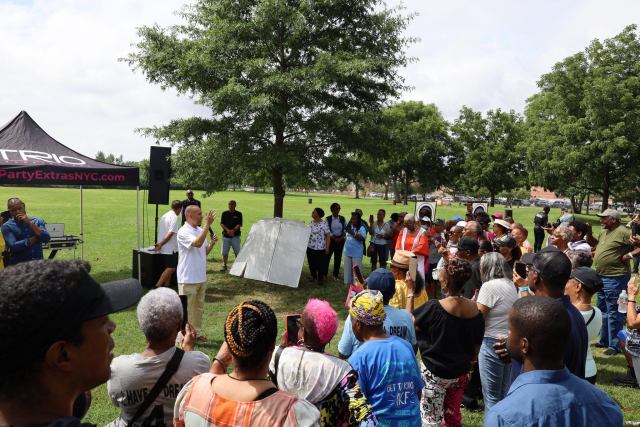 "We're going to continue in Washington to fight hard on your behalf to make sure that we can put people over politics and, in particular, fight for lower costs and fight for an economy that makes sense for everybody, fight for freedom, defend our democracy, and certainly make sure that no one takes away your Social Security or your Medicare. Not now, not ever," said Leader Hakeem Jeffries.
"First thing that the Inflation Reduction Act did was to take the cost of insulin for everybody who's on Medicare, which, as you know, could cost thousands of dollars a year and, in fact, did up until January 1st of this year. But because of the Inflation Reduction Act, we have now reduced the cost of insulin to $35 a month. And we're just getting started.
Prior to the passage of the Inflation Reduction Act, the federal government, Medicare, was prohibited from being able to negotiate lower drug prices on your behalf. That made no sense, because if you think about whether it's Wal-Mart or Target or Best Buy, and because they have so many customers, they are able to negotiate lower prices and then pass that along to their customers.
But because of the Inflation Reduction Act, that has now changed and we are permitted to fight to lower the drug costs that you pay. And that's exactly what we will be doing, on your behalf."
###