REP. JEFFRIES & VA SEC. McDONOUGH HOST PACT ACT VETERANS RESOURCE FAIR 
Sheepshead Bay, NY – This week, Representative Hakeem Jeffries (NY-08), the House Democratic Leader, and U.S. Department of Veterans Affairs (VA) Secretary Denis McDonough hosted a Veterans Resource Fair at the Kings Bay Y to help veterans and survivors apply for PACT Act benefits. At the fair they were joined by more than a dozen Veterans Service Organizations, city agencies and nonprofits who connected veterans to benefits and helped attendees enroll on site.

Last year, under the leadership of President Biden, House Democrats delivered the most significant expansion of benefits for veterans and survivors in more than 30 years by passing the PACT Act. The law enables VA to expand healthcare and benefits for more than 5 million veterans exposed to burn pits, Agent Orange and other toxic substances while serving our nation.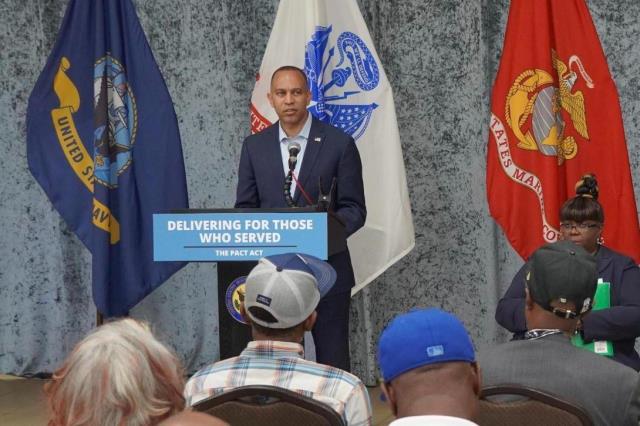 "It's our honor to be gathered with you for this resource fair and this effort to make sure that everyone who is eligible for PACT Act benefits will have the opportunity to get connected up with the VA the benefits available to them. I want to thank Secretary McDonough for his presence here today. There is no higher responsibility, no greater moral obligation that we have as elected officials, as public servants, than to be there for the people who have been there for our country in such an important, and resounding and significant way," said Leader Hakeem Jeffries. "Since being signed into law, the PACT Act has made a profound impact on our nation's veterans. More than 100,000 veterans have been able to enroll in VA healthcare subsequent to the passage of the PACT Act. More than 700,000 benefits claims have been filed. More than 4 million veterans have received toxic exposure screenings already. And most recently, despite the efforts by some in the Congress to strip away or to reduce veterans benefits, we were able to make sure that the Toxic Exposure Fund was fully funded by billions of dollars for the years to come."

"There are many Veterans and survivors across New York – and across America – who are newly eligible for healthcare and benefits under the PACT Act, and we will not rest until every one of them gets what they've earned," said VA Secretary Denis McDonough."While there's no deadline to apply, there is urgency: Veterans who apply by August 9th may have their benefits backdated to August 10, 2022, the day that President Biden signed this historic legislation into law. So don't wait, apply today at VA.gov/PACT."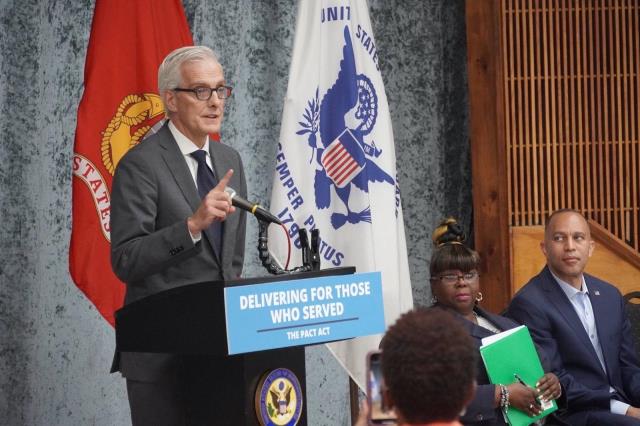 There is no deadline to apply for PACT Act-related benefits, but if a veteran or survivor files their PACT Act claim—or quickly submits an intent to file—by August 9, 2023, they may receive benefits backdated to August 10, 2022. Veterans who deployed to a combat zone and were discharged or released between September 11, 2001 and October 1, 2013 can enroll directly into VA healthcare during a special enrollment period that ends on September 30, 2023.

Veterans and survivors can apply or learn more about what the PACT Act could mean for them by visiting VA.GOV/PACT or calling 1-800-MYVA411. 
Click here for more photos.

###