REP. JEFFRIES: RESPECT MARRIAGE, RESPECT FREEDOM, RESPECT LIBERTY AND JUSTICE FOR ALL
WASHINGTON, DC – Today, Rep. Hakeem Jeffries (D-NY), the incoming Democratic Leader and a Member of the Judiciary Committee, voted to send H.R. 8404, the Respect for Marriage Act, to President Biden for his signature. The bipartisan legislation will enshrine and protect marriage equality for same-sex and interracial couples, and Rep. Jeffries was instrumental in drafting the legislative language to protect the marriage rights of interracial couples.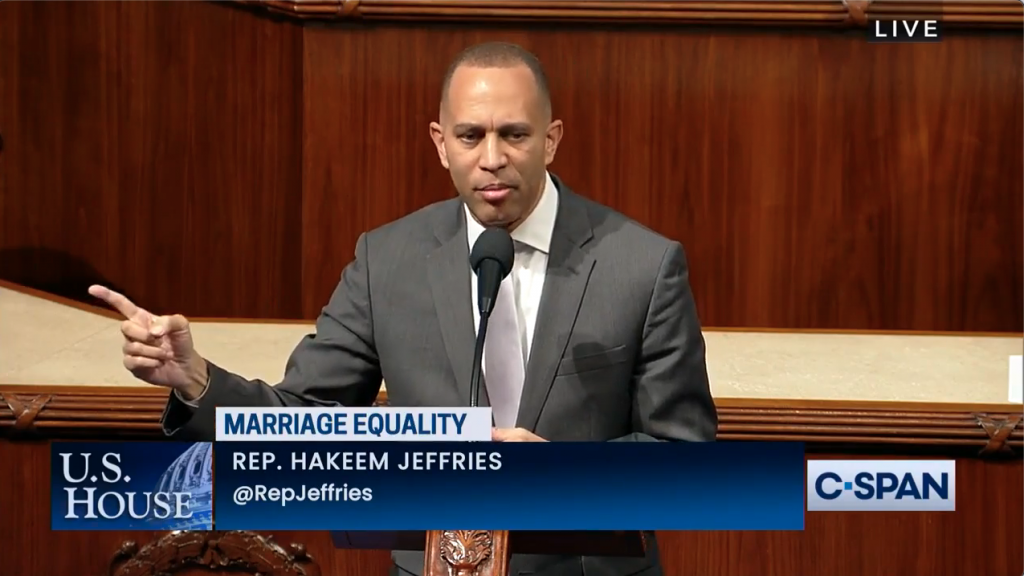 Remarks as Delivered:
"The founding document of this country, the Declaration of Independence, read: 'We hold these truths to be self-evident, that all men are created equally, entitled to life, liberty and the pursuit of happiness.'
Those words were eloquent in their articulation, incomplete in their application.
As the great Barbara Jordan once pointed out, initially they didn't apply to enslaved Africans, or women, Native Americans, poor people of every race and certainly it didn't apply to the LGBTQ community.
But through a process of constitutional amendment, ratification, court decision and legislation, those words have increasingly been brought to life as we journey toward a more perfect union.
That is the work that is being done today with the Respect for Marriage Act, particularly because of a radical, right-wing, reckless and regressive Supreme Court majority that threatens freedom and marriage equality.
That is why I urge my colleagues to support the Respect for Marriage Act, respect marriage, respect freedom, respect liberty and justice for all."

Background
Earlier this year, when the Supreme Court overturned the right to an abortion in Dobbs v. Jackson Women's Health Organization, Justice Clarence Thomas wrote in a concurring opinion that they "should reconsider all of this Court's substantive due process precedents."

In the 1967 Loving v. Virginia decision, the Court ended all race-based restrictions on marriage and found laws that ban them violated both the Due Process and Equal Protection Clauses of the 14th Amendment. In 2015, the Court held that same-sex couples had a right to marry guaranteed by both of the same Clauses of the 14th Amendment. In 1973, in the Roe v. Wade decision, the Court held that the Due Process Clause of the 14th Amendment provided a right to privacy which granted women a right to an abortion, which has subsequently been overturned.
Specifically, the Respect for Marriage Act will:
Repeal the Defense of Marriage Act (DOMA). Though ruled unconstitutional by a wiser Court, this law is still on the books and could be put back in place through Court action.
Enshrine Marriage Equality for Federal Law Purposes. The bill requires, for federal law purposes, that an individual be considered married if the marriage was valid in the state where it was performed.
Provide Additional Legal Protections. The bill prohibits any person acting under color of state law from denying full faith and credit to an out-of-state marriage based on the sex, race, ethnicity or national origin of the individuals in the marriage, provides the Attorney General with authority to pursue enforcement actions and creates a private right of action for any individual harmed by a violation of this provision.
###