REP. JEFFRIES: WE MUST ADDRESS THE GUN VIOLENCE EPIDEMIC DECISIVELY AND ALLOW AMERICA TO BE THE BEST VERSION OF ITSELF
WASHINGTON, DC – Today, Rep. Hakeem Jeffries (NY-08), Chairman of the House Democratic Caucus and a member of the Judiciary Committee, spoke on the Floor of the House before voting for H.R. 7910, the Protecting Our Kids Act, comprehensive anti-gun violence legislation. The United States has 4% of the world's population but more than 40% of the world's guns, and gun violence is responsible for in excess of 32,000 deaths across the country every year.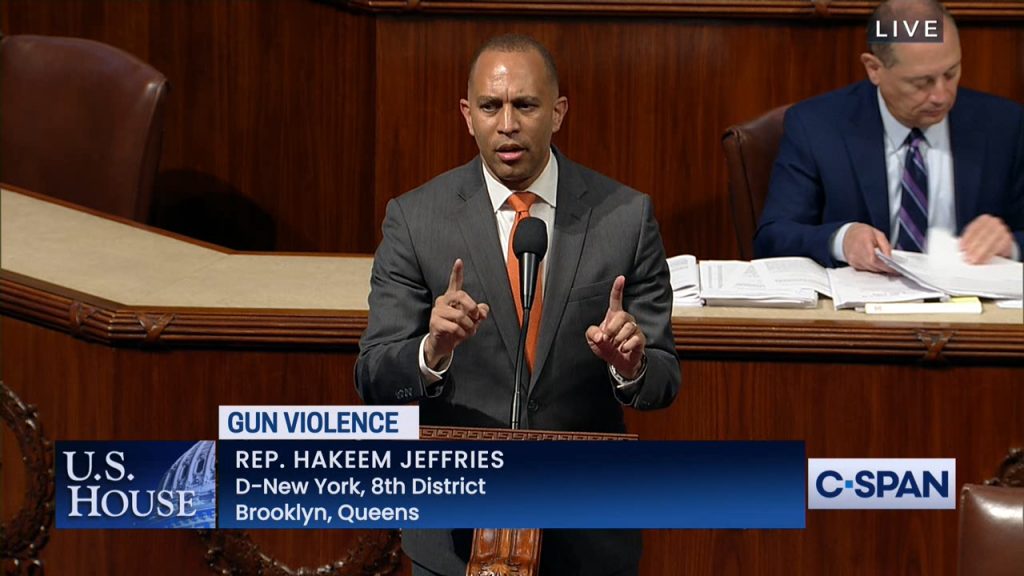 Remarks as Delivered:
"America is in the midst of a shocking gun violence epidemic that should shock the conscience of everyone and has devastated children, families and communities.
We must address it with the fierce urgency of now.
But there are some in this chamber who would rather bury your heads in the sand and act like everything is okay.
It is not okay that Black folks were gunned down in Buffalo, New York, simply because of the color of their skin.
It is not okay that members of the Jewish community were gunned down in the Tree of Life Synagogue in Pittsburgh simply because of their religious beliefs.
It is not okay that children were gunned down and shredded in Uvalde, Texas, by an 18-year-old who should never have had access to a weapon of war.
It is not okay that mass murder has become a way of life in the United States of America.
That is why we must pass comprehensive gun violence prevention legislation, address this epidemic decisively and allow America to be the best version of itself."
Background:
Specifically, the Protecting Our Kids Act will:
Raise the lawful age to purchase a semiautomatic centerfire rifle from 18 to 21 years old,
Establish a new federal offense for the import, sale, manufacture, transfer or possession of a large capacity magazines, with exceptions for certain law enforcement uses and the possession (but not sale) of grandfathered magazines. Allow state and local governments to compensate individuals who surrender large capacity magazines through a buyback program,
Establish new federal offenses for gun trafficking and straw purchasers and authorize seizure of the property and proceeds of the offense,
Establish voluntary best practices for safe firearm storage; award grants for Safe Firearm Storage Assistance Programs; provide a tax credit for 10% of amounts received from the retail sale of safe storage devices,
Establish requirements to regulate the storage of firearms on residential premises; create criminal penalties for violation of the requirements,
List bump stocks under the National Firearms Act (like machineguns) and statutorily banning the manufacture, sale, or possession of bump stocks for civilian use and
Ensure that ghost guns are subject to existing federal firearm regulation by amending the definition of "firearm" to include gun kits and partial receivers and changing the definition of "manufacturing firearms" to include assembling firearms using 3D printing.