REP. HAKEEM JEFFRIES: UNACCEPTABLE FOR COMMUNITIES OF COLOR TO BE EXCLUDED FROM REDISTRICTING PROCESS. SCHEDULE ADDITIONAL HEARINGS ACROSS NEW YORK STATE. 
NEW YORK, NY – Today, Representative Hakeem Jeffries (NY-08) was joined by members of the UNITY MAP COALITION at a press conference regarding the millions of New Yorkers being denied a meaningful opportunity to present their views as it relates to legislative representation in Albany and in Congress through the court-ordered redistricting process.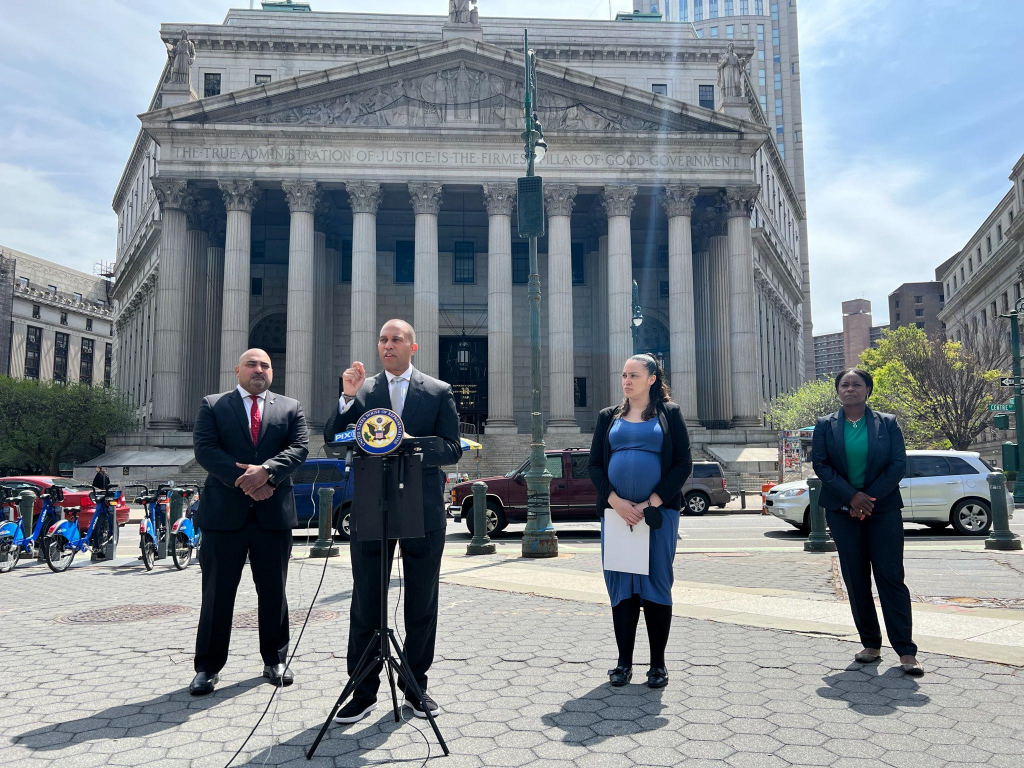 "Millions and millions of voters, here in New York City, throughout downstate New York, are unable to have their voices heard in this redistricting process. That is unacceptable. That is unconscionable. That is un-American," said Rep. Jeffries at the press conference. "We are calling upon Judge McAllister to open up the redistricting process, hold hearings in downstate New York, in the city of New York, on Long Island, in the northern suburbs, in the Hudson Valley, in upstate cities like Buffalo, Rochester and Albany so that the people's voices can be heard in this very important redrawing of legislative and congressional lines."
Today Rep. Jeffries also released a letter he sent to Judge Patrick McAllister asking him to immediately schedule additional hearings on the process at sites accessible to all New Yorkers.
"New Yorkers from every walk of life, race, religion, ethnicity, socioeconomic status and zip code are reflected in their elected representatives in Albany and Washington. A fair and impartial judicial process concerning redistricting must be democratic and inclusive of perspectives from across our diverse state," wrote Rep. Jeffries. "Black, Latino and Asian-American communities, particularly in downstate New York, are at risk of being systematically excluded from the redistricting process. That is not acceptable."
In a ruling last week, the New York Court of Appeals put the redistricting process under the sole judicial jurisdiction of Judge Patrick McAllister who had earlier indicated that there will be a single public hearing where interested parties could participate on May 6 in the Village of Bath, more than 300 miles from New York City.
"If one of my many diverse constituents in Brooklyn or Queens wanted to appear in person to express their views about the redistricting litigation, their only opportunity to do so would be to venture to Steuben County, New York on a single work day this week. The Steuben County Courthouse is not readily accessible via public transportation. There is no airport in or around Steuben County. Amtrak does not go to the Village of Bath. It is apparently a nearly ten-hour bus ride from New York City to your location, requiring someone in Brooklyn to leave in the middle of the night," continued Rep. Jeffries.
"It would be all but impossible for millions of downstate residents in and around the city of New York to participate in the singular hearing that you have scheduled" concluded Rep. Jeffries. "The court must immediately schedule additional hearings at locations accessible throughout our state, including in New York City, Albany and Buffalo before ruling on legislative and congressional districts drawn by an unelected, out-of-town special master."
Click here to read the full letter Rep. Jeffries sent to Judge McAllister.
###