REP. JEFFRIES: THE HOUSE WILL HOLD PAUL GOSAR ACCOUNTABLE FOR HIS VIOLENT AND DEPLORABLE BEHAVIOR
WASHINGTON, DC – Today, Representative Hakeem Jeffries (NY-08) spoke on the floor of the House of Representatives on a resolution censuring Representative Paul Gosar for sharing a video depicting him murdering Representative Alexandria Ocasio-Cortez and attacking President Joe Biden.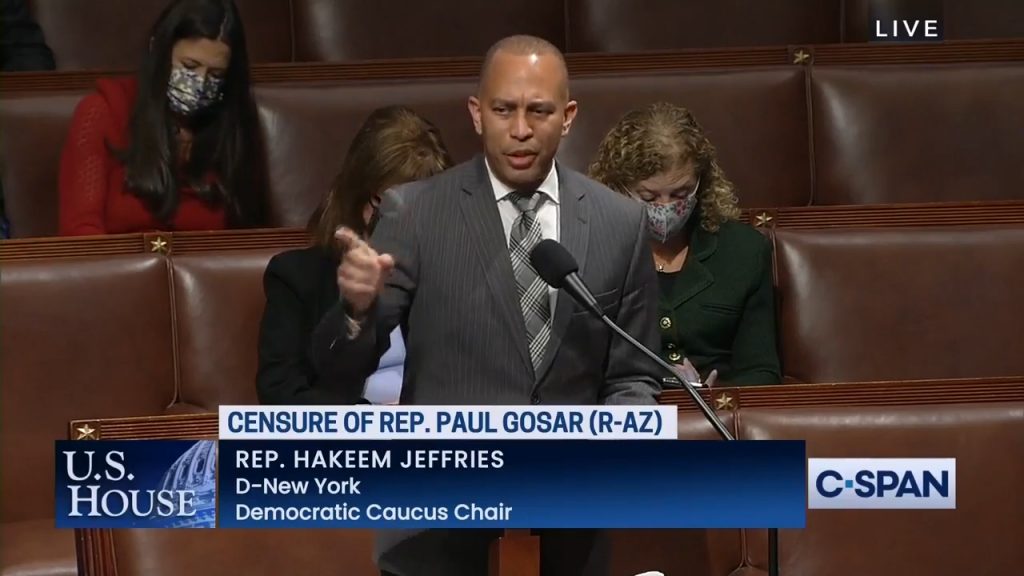 Remarks as Delivered:
"Inciting violence is unacceptable.
Threatening to kill a colleague, the President of the United States or any American is unacceptable.
And I rise to make it clear that we have an opportunity today to choose decency over demonization.
To choose civility over cynicism.
To choose the rule of law over recklessly violent behavior.
That is why the House of Representatives is acting and acting decisively.
We cannot normalize violence today.
We cannot normalize violence tomorrow.
We cannot normalize violence at any point moving forward in our future.
The House will hold Paul Gosar accountable for his violent and deplorable behavior.
Whether the cover-up caucus likes it or not.
Vote yes on this censure resolution."