REP. JEFFRIES: WE MUST HOLD STEVE BANNON ACCOUNTABLE
WASHINGTON, DC – Today, Representative Hakeem Jeffries (NY-08) spoke on the floor of the House of Representatives on a resolution finding Steve Bannon in contempt of Congress for failing to comply with a subpoena issued by the Select Committee to Investigate the January 6th Attack on the United States Capitol.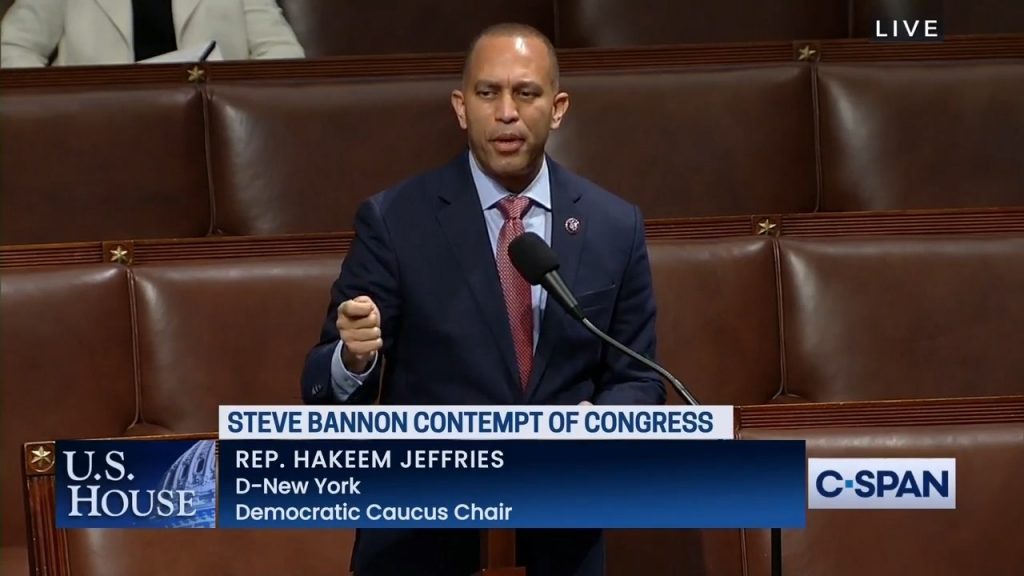 Remarks as Delivered:
The House is a separate and co-equal branch of government. We are the institution that is closest to the people.
The House has a sacred obligation under the Constitution to defend our democracy, and we should be doing that in a bipartisan way.
But something has happened to the modern-day Republican Party.
The party of Abraham Lincoln is gone. The party of Ronald Reagan is gone. The party of John McCain is gone.
And a cult of personality has risen up to take its place.
Is that why my colleagues refused to denounce the former president's lie uttered today that the real insurrection was on November 3?
Take back your party. You can start today, you can start right here. You can start by holding Steve Bannon accountable for his blanket defiance of a congressional subpoena.
What is wrong with Steve Bannon? There is no cult exception to the United States Constitution.
There is a legitimate bipartisan congressional investigation that is underway into the violent insurrection, an attack on the Capitol on January 6.
It was an assault on the Congress, the Constitution and the country. A lawful subpoena has been issued that Steve Bannon should comply with.
We must hold Steve Bannon accountable for his blanket defiance of a congressional subpoena for undermining the rule of law and for obstructing a congressional investigation.
Because in America, no one, no one, no one is above the law.