REP. JEFFRIES: DONALD TRUMP IS A LIVING, BREATHING IMPEACHABLE OFFENSE
WASHINGTON, D.C. – Today, Congressman Hakeem Jeffries (NY-08), Chairman of the House Democratic Caucus, voted to impeach President Donald Trump for inciting an insurrection against the United States through encouraging his supporters to attack the U.S. Capitol. In a vote of 232 to 197, the Article passed with the support of 10 Republicans who joined Democrats to protect the safety and well-being of the American people against the clear and present danger posed by the president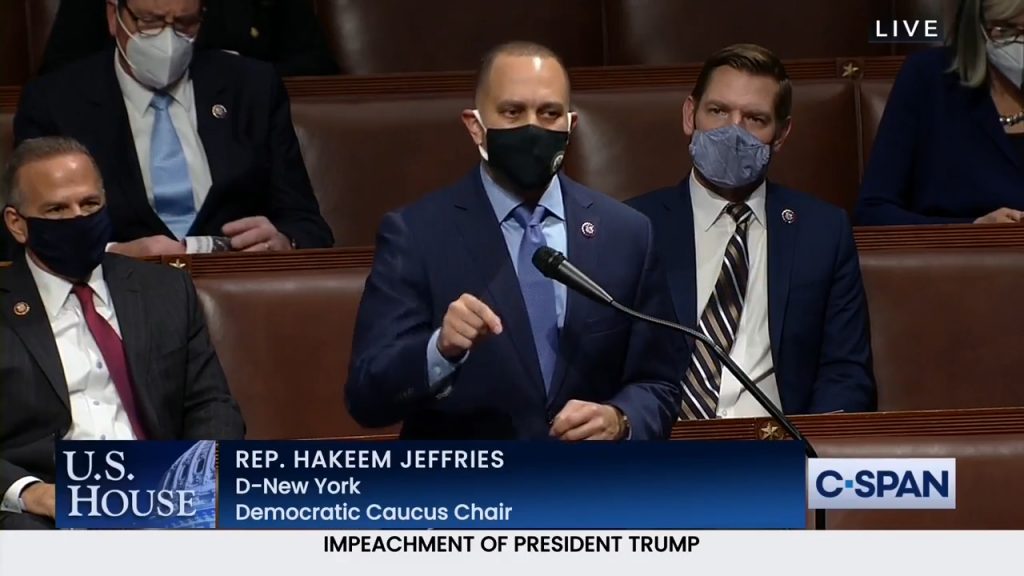 Remarks as delivered:
"I did not come to Congress to impeach Donald Trump.
But the constitutional crimes by an out-of-control president, inspired by his hatred and the big lie that he told cannot be ignored.
Donald Trump is a living, breathing impeachable offense.
It is what it is.
The violent attack on the U.S. Capitol was an act of insurrection incited by Donald Trump.
He is a clear and present danger to the health, safety and well-being of the American people, and that is why this impeachment is necessary on the House floor for a second time with a bipartisan majority.
Violence will not win.
Insurrection will not win.
Sedition will not win.
Terror will not win.
Lawlessness will not win.
Mob rule will not win.
Not today. Not tomorrow. Not ever.
Democracy will prevail."