REP. JEFFRIES ON HOUSE FLOOR: DON'T MESS WITH USPS
WASHINGTON, D.C. – Today, U.S. Representative Hakeem Jeffries (NY-08) spoke on the floor of the House of Representatives in support of the "Delivering for America Act." The legislation would prohibit the United States Postal Service (USPS) from implementing any changes to operations or the level of service it had in place in January. It would also provide $25 billion in critical funding to support the Postal Service.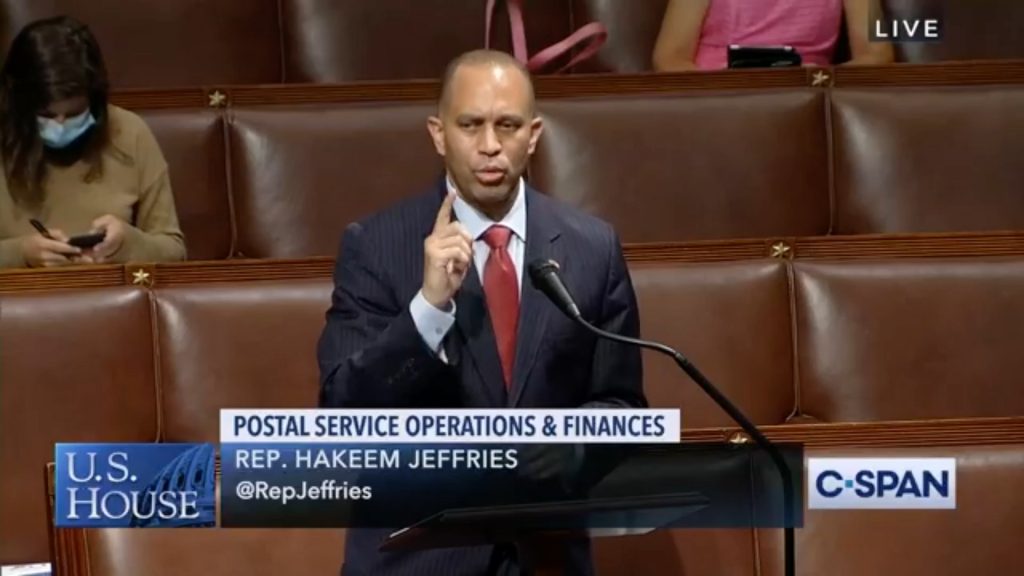 Remarks as delivered:
"The Post Office is as American as motherhood, baseball and apple pie.
It is one of the only entities actually mentioned in the United States Constitution.
It has been around for hundreds of years.
The first Postmaster General was Dr. Ben Franklin.
It is part of the heart and soul of this country.
And the attacks on the Post Office by the Trump Administration are shameful.
The American people deserve a Postal Service that delivers Social Security checks to senior citizens.
Delivers medicine to disabled veterans.
Delivers unemployment insurance checks to displaced Americans.
And yes, delivers ballots to those who choose to vote by mail in the midst of a deadly pandemic.
Because no American should ever have to choose between their health, safety and well-being on the one hand, and the constitutional right to vote on the other.
That is why we need a fully functional Postal Service.
Don't Mess With USPS."
After his appointment by President Trump in May, Postmaster General Louis DeJoy pushed new operational changes that degraded service, delayed the mail and threatened to deny the ability of eligible Americans to cast their votes through the mail in the upcoming elections. In July, the Postal Service warned New York and 45 other states that voters may be disenfranchised by delayed mail-in ballots.
Earlier this week, Postmaster General DeJoy announced that he was suspending "longstanding operational initiatives" until after the November election due to fears about the Postal Service's ability to deliver election mail. However, later that evening, USPS management instructed maintenance managers to not reconnect or reinstall the sorting machines that were taken off-line.
On Monday, Rep. Jeffries and Rep. Ted Lieu sent a letter to FBI Director Christopher Wray requesting the FBI to investigate whether Postmaster General DeJoy committed any crimes while taking actions to delay the delivery of mail. Later in the week, Rep. Jeffries joined 90 of his colleagues in asking for the USPS Board of Governors to remove Postmaster General DeJoy.