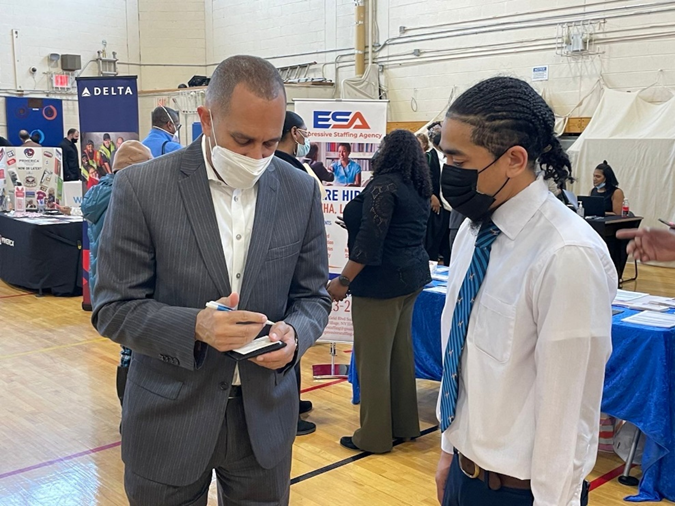 Our economy is continuing to grow at a strong and steady pace after a historic recovery. Under President Biden's leadership, over 12.6 million jobs have been created and labor participation has bounced back to prepandemic levels. Unemployment has reached a 50-year low and dropped to 5.0% for Black workers – the lowest rate on record.
Much of this recovery is attributed to our investments in the working men and women of this nation, as we build our economy from the bottom up and middle out. It is important to provide a leveled economy that works for all Americans, that brings opportunity to act decisively to address disproportionate impacts in communities of color, under-sourced communities, Appalachia, rural America, native lands and Brooklyn.
I have worked with my House colleagues to introduce the Richard L. Trumka Protecting the Right to Organize (PRO) Act, landmark legislation that will protect the essential right of workers to organize for better working conditions. I have prioritized our work to break harmful patterns of pay discrimination and to strengthen workplace protections for women. We must address the obstacles that prevent women from the full pursuit of personal and professional achievement, including by addressing the childcare challenges in this country.
With President Biden, Democrats have made unprecedented investments in our roads, bridges and mass transit systems and brought manufacturing jobs back home to the United States. I am committed to ensuring that the thousands of good-paying jobs we created will be accessible to all communities and fulfilled by a pipeline of highly trained professionals and apprenticeship programs.
In 2023, I granted $590,000 in community project funding to Brooklyn-based CAMBA, Inc.'s CAMBA's Career Navigation Initiative to improve the innovative workforce development hub, piloted in East New York, where such services do not exist and are sorely needed. The initiative offers a suite of career navigation opportunities, including success and financial coaching, industry-specific training and credentialing, ongoing career navigation support and job placement services, across five CAMBA community centers equipped with office space for one-on-one sessions and classrooms for group training.
For more information concerning my work on the economy and the workforce, please contact me. Please also see the information and resources that my office offers for businesses, consumers and jobs.
More on Economy and Workforce
Rep. Jeffries Statement on Democrats Continuing to Improve the Economy for Everyday Americans
Rep. Jeffries Statement on Not Allowing the Extreme MAGA Republicans to Hold the American Economy Hostage
Rep. Jeffries Statement on House Democrats Being Unified, Ready, Willing and Able to Get to Work on Behalf of Everyday Americans