REP. HAKEEM JEFFRIES, SEN. CHUCK SCHUMER & SEN. KIRSTEN GILLIBRAND SECURE $9.2 MILLION FOR THE BROOKLYN HOSPITAL CENTER
BROOKLYN, NY – Yesterday, Congressman Hakeem Jeffries (NY-08), Senate Democratic Leader Chuck Schumer (D-NY) and Senator Kirsten Gillibrand (D-NY) announced that they secured $9.2 million in funding for The Brooklyn Hospital Center (TBHC) through the recently-passed government funding law.
Serving more than 70,000 patients per year in its Emergency Department, TBHC is the oldest hospital in Brooklyn and an independent, nonprofit, safety-net hospital that is neither government owned nor part of a larger health system. Upwards of 90% of the hospital's patients are people of color, and 80% are on Medicaid, Medicare or other government insurance.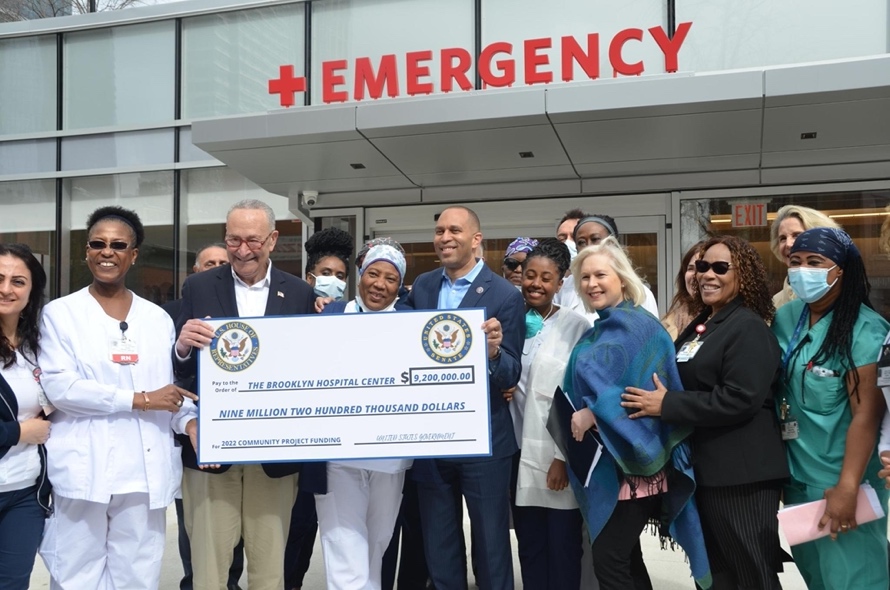 "The Brooklyn Hospital Center serves the least, the lost and the left behind, the poor, the sick and the afflicted, and do a phenomenal job. We're so thankful for them and the healthcare heroes who are there for our community. I was proud to work with Senators Schumer and Gillibrand to deliver $9.2 million in federal funds for The Brooklyn Hospital Center for the Emergency Department Modernization Project to help them continue their vital work," said Congressman Jeffries.
"We secured this vital federal funding in the omnibus bill so The Brooklyn Hospital Center can modernize its emergency department, which will improve healthcare access and efficiency for New Yorkers, and enable the incredible healthcare workers at this hospital to continue providing top-quality care," said Senator Schumer. "That's why I'm so proud to bring investments like this one to our communities in New York so our hospitals can better serve their communities, especially the underserved communities that The Brooklyn Hospital Center critically cares for."
"Brooklyn residents deserve access to a world-class health care system, and I am proud of the investments we are making to improve the services of The Brooklyn Hospital Center's Emergency Department," said Senator Gillibrand. "The pandemic tested the full capabilities of our health care system, and this funding will go a long way toward providing our most vulnerable communities access to the best, highest quality medical care."
The federal money will fund TBHC's Emergency Department Modernization project to construct new triage, exam and treatment rooms; additional space and flow for support services such as a radiology room, CT scan room, satellite pharmacy and discharge rooms; new waiting areas; a new entrance to the Emergency Department and quick registration areas.